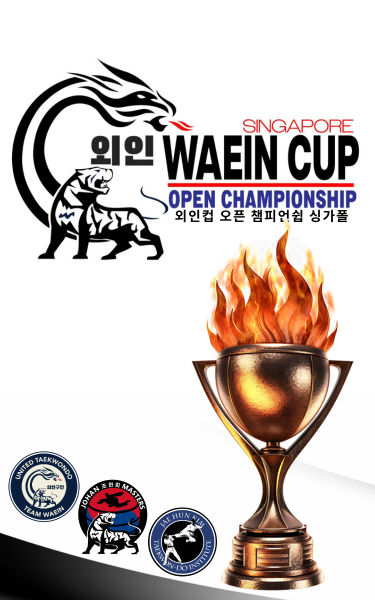 About Waein Cup
외인컵 오픈 챔피언쉽 싱가폴
Dear International Taekwondo Family & Friends,
We are proud and honoured to invite you and your team to participate in the Waein Cup Open Championship Singapore 2024 in Singapore.
Sanctioned by the Singapore Taekwondo Federation (STF) and supported by Community Sports Network @ Tampines West, we will host this event in the Our Tampines Hub – Team Sports Hall on 12, 13 and 14 January 2024.
The Waein Cup Open Championship Singapore competition areas will be equipped with an electronic scoring and video replay system including KPNP electronic PSS (KPNP Chest and Head Gear), which is the official system for all Singapore Taekwondo Federation sanctioned competitions. We will also have both World Taekwondo International Referee and Singapore National Referees to guarantee maximum transparency, fair play, and impartiality for ALL Athletes.
We believe that every individual has the potential to achieve greatness and this is your chance to seize that potential and turn it into reality. Whether you're a seasoned professional looking to showcase your expertise or a newcomer eager to make your mark, this competition welcomes participants of all backgrounds and experience levels.
For more information on this Open Championship, please email us or refer to the full welcome letter from Mr Yoon Daeung, Chairman, Waein Cup